Renting a Set
Cape Town and Gauteng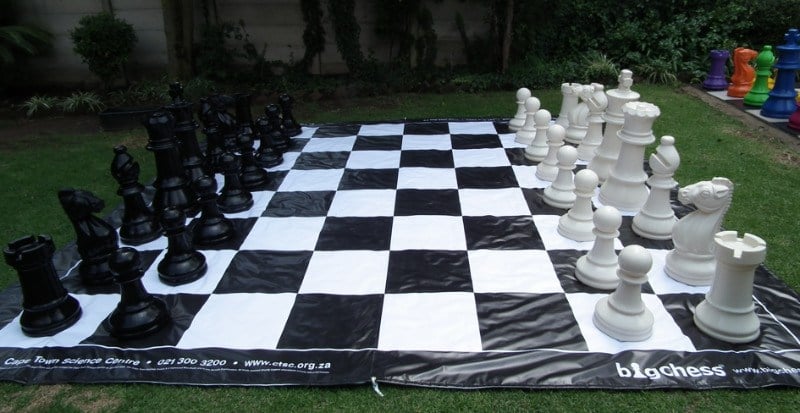 You can now rent a set and PVC board in:
Gauteng - contact Marie on 011 792 4538 - [email protected]
Cape Town - Karin Smith on 021 300 3200
(t: +27 21 300 3200 | f: +27 86 519 7227 | [email protected] | www.ctsc.org.za)
If you are not in Gauteng or the Cape please contact us anyway and we will try and assist.

Costs are: R995 per day (or part thereof), delivery charges are around R475 each way, depending upon distance and we require a R4,500 refundable deposit. We also need a copy of your ID document, address etc.
We are not always able to deliver or collect, it depends upon the times and the days and our staff availability. So please confirm with us.

We would now like to set up more rental services for our BigChess sets in Durban and other major centres.

So, we are looking for someone to work with us who is interested in chess and can provide this service for us. There is also the opportunity to generate some income.


What we propose is as follows:

Rentals

1. We will advertise your contact details on our web site and include the renting availability in our newsletters.

2. We will sell you a set at a very attractive price.

3. You purchase/make/acquire a vinyl board at your cost, we can supply artwork or we can supply one (which is quite expensive) as per the one we have now at. We will provide a substantial contribution to your PVC board costs depending upon if we can add some branding and the quality, etc.

4. You determine the rental price, daily charge, plus delivery charges, plus deposit - let us know. Our suggestion is R995 per day rental, delivery charges that we use are around R475 each way, depending upon distance, as deposit we charge R4,500 but the problem is that is doesn't cover replacement costs, but you could do ID docs and some sort of contract agreement.


Sales
1. You will get an attractive finder's fee for each set sold.

2. In order to register the potential customer with us, we need an e-mail with the contact date, your finder's name etc., the prospect name, contact telephone number, delivery address and e-mail address and how they heard of the product. We would need these e-mails ideally prior to the sale taking place. We are selling in Cape Town from our website and other advertising that we conduct but we have no other agents in Cape Town.

3. The finder's fee will be paid by EFT when the customer's payment has been cleared in our account.

4. All orders and shipping should be handled by us for now. Later, as things develop, we could provide some stock so that sets can be sold with little or no delivery charge if the customers collect.

Please contact me if you are interested - [email protected]